Skal du have styr på din ADHD?
Vil du have overblik, struktur og få tingene gjort – uden overspringshandlinger?
Så hiv fat i mig.
27 år af mit  liv skulle gå med noget, der i størstedelen af tiden føltes som et konstant kaos. Utallige var besøgene hos læger, psykologer og psykiatere – uden nogen nævneværdig effekt.
Ingen fandt ud af at jeg havde ADHD.
Den ultrakorte historie er, at da jeg endelig fik min diagnose – og medicin der matchede – tog mit liv en hel ny drejning. Du finder mere om mig og mit ADHD liv her.
I dag hjælper jeg:
• Unge og voksne med ADD/ADHD
• Forældre til teenagere med ADD/ADHD
• Øvrige pårørende, der ønsker rådgivning eller dybere indsigt i et ADD/ADHD liv
Jeg ønsker også at hjælpe dig
Jeg kan hjælpe dig, hvis du har et ønske om at blive klogere på dig selv selv og din ADD/ADHD – mestre den og din hverdag bedst muligt, samt udvikle dig på det personlige plan, hvor det er dig der har styringen.
Jeg er certificeret NLP coach og benytter mig af bestemte modeller og værktøjer, som kan hjælpe dig med at skabe forandringer, der hvor du har udfordringer. Om det er dit privatliv, arbejdsliv, dit sociale liv eller andet vi skal tale om – det er op til dig.
Få en gratis afklarende telefonsamtale? En samtale hvor jeg kan høre om de udfordringer med ADD/ADHD du møder – uanset om du er ung, voksen, forældre til en teenager eller anden pårørende. En samtale, hvor vi finder ud af hvad jeg kan gøre for dig. Book din gratis samtale her.
Vil du vide mere om hvordan jeg kan hjælpe dig, så tjek mere om coaching her. Det kan hjælpe dig videre.

Få guiden til 0 kr!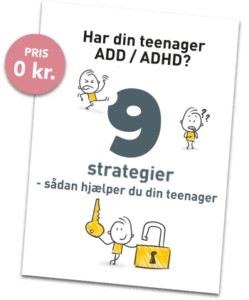 Som NLP coach – og indehaver af en ADD/ADHD diagnose – kan jeg hjælpe til en bedre forståelse af, hvad det er der sker i os, hvad der trigger forskellige uønskede situationer og hvordan det kan tackles. Vi kan mødes hos mig – eller online.
Alt i denne verden koster penge – men ikke her! Her finder du svar, idéer, skabeloner og smarte løsninger på nogle af de ting, jeg oftest bliver spurgt om eller selv har udfordringer med.
Det koster dig ikke fem flade ører at få nye ideer eller at blive inspireret.